Plant-based foods that contain isoflavones (plant estrogens) work in the body like a weak form of estrogen. For this reason, soy may help relieve menopause symptoms, although research results are contradictory. Some may help lower cholesterol levels and have been suggested to relieve hot flashes and night sweats. Isoflavones can be found in foods such as tofu and soy milk.
There are good calcium choices for healthier diets for women after menopause. Plain fat-free yogurt has 3 times the calcium as ice cream. Also, the low-fat milks have more calcium than the ones higher in fat. If you look for higher calcium foods, watch for low-fat options, you will gain calcium and not add fat to your diet. Other good options for high sources of calcium are broccoli, turnip greens and soybeans.
A healthy diet that includes whole grains, colorful fruits and vegetables, lean protein, heart healthy fats including omega 3 fats, low fat/nonfat dairy/dairy alternatives is ideal for any stage of life including menopause. Eating right, staying physical active (including strength training), and having a positive attitude are especially important during menopause to avoid unnecessary weight gain.
The key dietary recommendation to relieve menopausal symptoms is to increase the amount of plant foods, especially those high in phytoestrogens, while reducing the amount of animal foods in the diet. Phytoestrogens are plant compounds that are capable of binding to estrogen receptors and can replace some of the effect of estrogen that is no longer being made.
Foods high in phytoestrogens include soybeans and soy foods, flaxseeds, nuts, whole grains, apples, fennel, celery, parsley and alfalfa.
A high intake of phytoestrogens is thought to explain why hot flashes and other menopausal symptoms rarely occur in cultures in which people consume a predominantly plant-based diet. Increasing the intake of dietary phytoestrogens helps decrease hot flashes, increase maturation of vaginal cells and inhibit osteoporosis. In addition, a diet rich in phytoestrogens results in a decreased frequency of breast, colon and prostate cancers. Furthermore, it is important to increase the consumption of soy foods. Clinical studies have shown eating soy foods (the equivalent of 2/3 cup of soybeans daily) to be effective in relieving hot flashes and vaginal atrophy.
Cabbage-family foods, including broccoli, Brussels sprouts, cabbages, collards, kale and mustard and turnip greens, are good food choices for women going through menopause, not only for their ability to protect against breast cancer and heart disease but also because of their high content of nutrients that are supportive of bone health, such as calcium, magnesium and folic acid.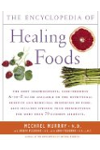 More About this Book
Encyclopedia of Healing Foods
From the bestselling authors of The Encyclopedia of Natural Medicine, the most comprehensive and practical guide available to the nutritional benefits and medicinal properties of virtually everything...
Many women have diets low in iron. By eating foods such as lean beef, eggs, fish, and leafy green vegetables, you can easily add iron to your diet. Also, nuts and whole grains (or refined grains that are enriched with iron) are good choices. Try to eat at least 3 servings of healthy, iron-rich foods each day.
It's always best to get your vitamins and minerals primarily from your diet, but everyone needs a nutritional backup every now and then. In addition to eating tons of fruits and vegetables that represent every color of the rainbow, take Dr. Mike's Fab 5, the basic vitamin/supplement combo everyone needs:
Calcium/magnesium. Take calcium with magnesium. Magnesium has gastrointestinal benefits of particular importance when taking calcium. Without it, patients complain of mucho constipation and bloating! Take 600 mg calcium and 200 mg magnesium once a day.
Vitamin D3. Needed for calcium absorption, but also helps your memory, heart, skin, and cancer risk. Take 1000 IU with your DHA.
DHA. Aids absorption of other fat-soluble vitamins like D3 and is great for your heart, brain, vision, and skin. Take 900 mg a day, algae-based if possible.
Multivitamin. Take half in the morning and half at night as an insurance policy for a less than perfect diet.
Probiotic. Helps digestion and fights infection and inflammation. Spore form is best.
An international meeting of experts reviewed hundreds of studies on the effect of soy in menopause. The resulting conclusion from the North American Menopause Society Position Paper stated "Soy-based isoflavones are modestly effective in relieving menopausal symptoms; supplements providing higher proportions of genistein or increased in S(Y)-equol may provide more benefits. Soy food consumption is associated with lower risk of breast and endometrial cancer in observational studies. The efficacy of isoflavones on bone has not been proven, and the clinical picture of whether soy has cardiovascular benefits is still evolving." Menopause Vol. 18, No. 7, pp. 732/753
It is important to increase nutrients lost through menopause. Try to increase calcium and iron especially through healthy eating. Simply increasing fruits and vegetables and decreasing sweets will help build a nutritional foundation for good health. Also, make lean protein choices such as chicken and fish. Increasing whole grains will aid in digestion and promote good colon health.
The contents of this website are for informational purposes only and are not intended to be a substitute for professional medical advice, diagnosis, or treatment. Nor does the contents of this website constitute the establishment of a physician patient or therapeutic relationship. Always seek the advice of your physician or other qualified health provider with any questions you may have regarding a medical condition.
After menopause, women require 1200 milligrams of calcium per day. Milk, yogurt and cheese are some of the best dairy sources that are rich in calcium. There are 300 milligrams of calcium in an eight ounce cup of skim or 1 percent milk. As for yogurt and cheeses, you will need to look at the nutrition facts panel on the label to find out how much calcium is in each of the products. If a label says 30 percent calcium, that is equivalent to 300 milligrams of calcium. Cheeses and yogurts vary in the amount of calcium. For all dairy products choose the lower fat version (skim or 1 percent) for less calories and as a prevention method for heart disease.
To prevent your liver and kidneys from working extra-hard to keep your hormone levels in balance, a good diet during menopause is important. Avoid processed foods and soda, which can increase your risk of osteoporosis. Eat plenty of fruits and vegetables, especially apples, carrots, cherries, green beans, tomatoes and yams. They contain isoflavones, which alleviate hot flashes and may protect against breast cancer. Other foods with isoflavones include barley, garlic, fennel, oats, red beans, sage and soy.
Continue Learning about Menopause