Sex hormone–binding globulin (SHBG) binds to hormones in the blood, to regulate their effects. Free (or unbound) testosterone and estrogen bind to receptors in the cells of various tissues, thus producing their effects throughout the body. SHBG decreases by about 50 percent from the time a woman is in her mid-twenties until her late forties, with the greatest drop two years before menopause. This drop in SHBG allows hormones like estradiol or testosterone to be more active in the body. The fall in SHBG levels coincides with the drop in estradiol levels that women experience with the menopausal transition.
The free androgen index, calculated as the ratio of testosterone to SHBG, rises by 80 percent during the same period, with the maximal change occurring two years before the last menstrual period.
When SHBG drops, more androgen becomes available as estradiol drops. This can result in the effects of androgen becoming more noticeable. Some women have increased hair growth on their upper lips or face and may develop a more masculine pattern of fat distribution (fat on the belly instead of on the thighs and buttocks). Acne can resurface. While some women find these changes in their bodies troubling, others may not experience them at all, or may not be bothered by them.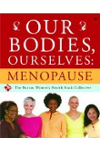 More About this Book
Our Bodies, Ourselves: Menopause
FROM THE EDITORS OF THE CLASSIC "BIBLE OF WOMEN'S HEALTH," A TRUSTWORTHY, UP-TO-DATE GUIDE TO HELP EVERY WOMAN NAVIGATE THE MENOPAUSE TRANSITION For decades, millions of women have relied on Our...
Continue Learning about Menopause