Midlife can bring an increased risk of depression. This can be due to menopause, or dismay over disappointments or missed opportunities in life. Make sure you talk through any emotional changes with your doctor. Any reasons that you may be unusually unhappy or disappointed are also important to discuss.
We all want to believe that natural menopause will be an uneventful part of life. And for some women, the transition is just that. But most women do experience some physical and/or mental changes. True chemical changes occur when hormones fluctuate, which can contribute to your mental state of mind. However, emotional problems can also stem from other midlife changes. Children have left the nest (or moved back!), marriages change, careers are challenged, and we become more mindful of health issues that seem to start rearing their ugly heads. And don't forget caring for aging family members
Bottom line: Life can throw you some curveballs; you just need to figure out how to handle them. If you are struggling, don't be afraid to ask for help.
Our cultural or ethnic backgrounds, class and sexual orientations, as well as other social and genetic determinants shape our experiences of the menopause transition. For example, the traditional role of black women as the pillars of our families and communities can result in black women jeopardizing their health by "overdoing it." An African-Canadian woman says she cannot show her feelings openly even when she feels vulnerable because she is expected to be the "strong" one.
Mexican-American women may be confronted with issues at menopause that result from bicultural life experiences. In Mexico, as in many other Latin American countries, women are unlikely to discuss menopause with others, including with their daughters, so the sensations and changes associated with menopause may come as a surprise to many women.
Pudor or modesty is an important value in many Latina communities. Therefore, midlife Latina women find consulting a medical practitioner, especially to discuss personal or sexual matters, rather uncomfortable. Pudor may also be the reason why some Latinas do not use the terms for sexual anatomy, and refer instead to the area "down there." In the United States, however, women are routinely expected to answer questions about menstrual status and other intimate issues at medical appointments.
A number of studies have documented cultural differences in our perceptions of menopause. For example, African-American women seem more likely to view the cessation of menstruation as a relief and look forward to not worrying about pregnancy after menopause. By contrast, white women perceive menopause as more of a medical problem and seek prescription therapy and written resources for information more readily. A large-scale study—Study of Women's Health Across the Nation (SWAN)—has allowed researchers to analyze the impact of ethnicity on menopause. The SWAN analysis highlighted a substantial amount of ethnic variation. For example, more African-American women reported hot flushes, more Latinas reported vaginal dryness and an earlier menopause, more white women reported difficulty in sleeping, and Asian-American women reported fewer symptoms despite having lower estrogen levels compared to the averages in the study group.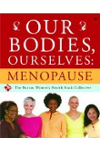 More About this Book
Our Bodies, Ourselves: Menopause
FROM THE EDITORS OF THE CLASSIC "BIBLE OF WOMEN'S HEALTH," A TRUSTWORTHY, UP-TO-DATE GUIDE TO HELP EVERY WOMAN NAVIGATE THE MENOPAUSE TRANSITION For decades, millions of women have relied on Our...
Continue Learning about Menopause