Inhibins are proteins in the ovaries that control the ovulation process through their effects on FSH. Inhibin A and B keep FSH levels low during the reproductive years. Inhibin levels drop in the years prior to menopause as FSH levels rise. The drop in inhibin B levels reflect the number of follicles left for future development in the ovary. When the number of follicles available decreases below the level necessary for ovulation, ovulation stops.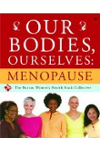 More About this Book
Our Bodies, Ourselves: Menopause
FROM THE EDITORS OF THE CLASSIC "BIBLE OF WOMEN'S HEALTH," A TRUSTWORTHY, UP-TO-DATE GUIDE TO HELP EVERY WOMAN NAVIGATE THE MENOPAUSE TRANSITION For decades, millions of women have relied on Our...
Continue Learning about Menopause