Sexual pleasure often depends on physical, psychological, cultural and social factors whether you are going through menopause or not. Some women, after menopause, continue to have the same wonderful sexual experiences they had during the reproductive years, while others find their sexual satisfaction plummeting. Many of the problems that women experience with sex have nothing to do with to her willingness or desire to have it, but stem from menopausal symptoms such as hot flashes and sleeplessness, which can lead to irritability.
Declining estrogen during menopause also causes the cells inside the vagina to make less lubricant, while the tissue inside the vagina becomes pale and thin. That means that any type of friction can cause irritation. For some women, this makes sexual intercourse painful if not impossible.
But it's not all bad news. Although women may not be in the mood to have sex spontaneously, they often become aroused once it gets going. So partners shouldn't give up.
I am a big proponent of preserving a healthy sex life throughout the adult lifespan, so if you are partnered and your sexual experience is impacted by menopause, talk to your doctor. There are many hormonal and non-hormonal treatments to help get you back in the sack. And if you feel depressed that's all the more reason to have a conversation, because libido is also keenly tied to depression.
Before menopause, a woman's vagina produces lubrication and the walls of the vagina are thicker. This makes sex easier and more enjoyable. After menopause, when estrogen production has slowed way down, the vagina is dryer and thinner because of the lack of estrogen. In addition, the vagina can get shorter and more narrow as a woman ages.

Any of these can make sex less pleasurable and sometimes painful. If you are experiencing any of these problems, talk to your doctor about how you might find pleasure in sex. Some options include using a lubricant, taking estrogen replacement pills, and using an estrogen cream.
If sex has been mainly a positive experience in our lives, by menopause, we will have discovered sexually pleasurable activities both alone and with partners. As we mature within ourselves and in our relationships, our sexual activities may expand from being genitally centered to including additional sensual and emotional experiences.
In genitally centered sex, orgasm is often the goal, whether through stimulation of the clitoris or the vagina, with or without vaginal penetration with a finger, tongue, penis, vibrator, or dildo. Orgasms come easily for some women and are more elusive for others. Many women find that the most reliable orgasm comes through a combination of clitoral and vaginal stimulation. Some of us can feel judgmental about how we achieve orgasm.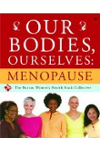 More About this Book
Our Bodies, Ourselves: Menopause
FROM THE EDITORS OF THE CLASSIC "BIBLE OF WOMEN'S HEALTH," A TRUSTWORTHY, UP-TO-DATE GUIDE TO HELP EVERY WOMAN NAVIGATE THE MENOPAUSE TRANSITION For decades, millions of women have relied on Our...
Continue Learning about Menopause