All women who live long enough eventually go through menopause, whether they live in Kansas or Kenya. But a number of studies suggest that how a women experiences menopause may depend, in part, on her heritage and where she lives in. Consider the most notorious symptom of menopause, hot flashes. Many menopausal women in the United States battle this frustrating problem, which causes a sudden onset of warmth and heat, accompanied by blouse-soaking perspiration. Studies show that African-American women are significantly more likely than white women to experience hot flashes as they go through menopause. On the other hand, women in Asian countries rarely report problems with hot flashes. The same is true among women in India.

Not all studies have found major differences in how women around the globe experience menopause. However, even if race or ethnicity does influence menopause symptoms, no one is sure why. It could be due to differences in hormone levels or other physical factors, such as body weight. Another possibility is that women in some cultures are less likely to open up and talk about how menopause has affected them, so they suffer in silence.

Yes. Though the age of menopause may vary slightly depending on ethnic origin.
Anthropological research suggests that both the biology of aging and the cultural meanings associated with it vary around the world, and that biology and culture may affect each other.
For example, the signs of the menopausal transition that are often noted in North America and Europe, in particular hot flashes and night sweats, do not occur equally among all populations of perimenopausal and postmenopausal women. Research in India, Indonesia, Taiwan, Hong Kong, Japan, Singapore, China, Korea, Thailand, Malaysia, and the Yucatan, Mexico, all reveal low reporting of hot flashes and night sweats. In parts of Africa and the Middle East, research indicates that hot flashes are, on average, experienced more often than among North American and European women.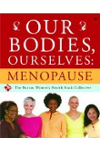 More About this Book
Our Bodies, Ourselves: Menopause
FROM THE EDITORS OF THE CLASSIC "BIBLE OF WOMEN'S HEALTH," A TRUSTWORTHY, UP-TO-DATE GUIDE TO HELP EVERY WOMAN NAVIGATE THE MENOPAUSE TRANSITION For decades, millions of women have relied on Our...
Continue Learning about Menopause