Anthropological research suggests that both the biology of aging and the cultural meanings associated with it vary around the world, and that biology and culture may affect each other.
For example, the signs of the menopausal transition that are often noted in North America and Europe, in particular hot flashes and night sweats, do not occur equally among all populations of perimenopausal and postmenopausal women. Research in India, Indonesia, Taiwan, Hong Kong, Japan, Singapore, China, Korea, Thailand, Malaysia, and the Yucatan, Mexico, all reveal low reporting of hot flashes and night sweats. In parts of Africa and the Middle East, research indicates that hot flashes are, on average, experienced more often than among North American and European women.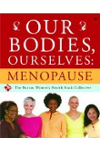 More About this Book
Our Bodies, Ourselves: Menopause
FROM THE EDITORS OF THE CLASSIC "BIBLE OF WOMEN'S HEALTH," A TRUSTWORTHY, UP-TO-DATE GUIDE TO HELP EVERY WOMAN NAVIGATE THE MENOPAUSE TRANSITION For decades, millions of women have relied on Our...
Continue Learning about Menopause