Many of us need to find the right balance between acknowledging the very real changes in our bodies at menopause and understanding that our life experiences at any age are affected by various social, political, economic, and cultural factors that have little to do with hormones and that cannot be &quottreated" with either medication or pop psychology. By honestly looking at our life situations, our relationships, our families, and our society, we may be better able to resist the ageism, sexism, and medicalization that are so central to the American way of experiencing menopause.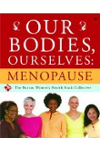 More About this Book
Our Bodies, Ourselves: Menopause
FROM THE EDITORS OF THE CLASSIC "BIBLE OF WOMEN'S HEALTH," A TRUSTWORTHY, UP-TO-DATE GUIDE TO HELP EVERY WOMAN NAVIGATE THE MENOPAUSE TRANSITION For decades, millions of women have relied on Our...
Continue Learning about Menopause