There's a lot you can do to deal with the problems posed by menopause. As always, I like to recommend lifestyle measures first that make the symptoms more tolerable. So if you are having hot flashes keep the room cooler, wear less restrictive clothing, kick off the blankets, and stay away from triggers like hot beverages and spicy foods. You may also do better if you drink less alcohol and coffee. You'll just have to try and see what works for you. I am also a big proponent of increasing exercise. It not only builds stronger bones -- a good strategy to mitigate the consequences of declining estrogen, such as a loss of bone density -- but can also help combat depression, sleep and cholesterol problems.

If you haven't stopped smoking, now is a good time. You can also practice some stress reducing techniques like yoga and meditation.

Lifestyle changes are key when it comes to reducing problems associated with transitioning to menopause (the change in life ending your fertility). Exercise regularly and eat a diet rich in beans, seeds, whole grains and fruits. These foods contain plant estrogens, the female hormone, that can help manage the symptoms of menopause.

Get two to four servings of calcium and about three servings of iron per day, and eat more fiber. Drink plenty of water and don't smoke or drink alcohol.

You can manage mood swings and other emotional problems of menopause with activities such as yoga, meditation and massage. Stay active and involved in activities you enjoy and surround yourself with positive relationships.

For vaginal dryness or discomfort, talk with your doctor about over-the-counter lubricants and creams that might work for you. You can also try other forms of sexual intimacy that don't involve sexual intercourse.
To reduce problems associated with the menopause transition, many women are trying dietary changes either as a substitute for or as a supplement to hormone treatment. Our understanding of how food can affect our experiences of menopause is still evolving.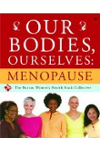 More About this Book
Our Bodies, Ourselves: Menopause
FROM THE EDITORS OF THE CLASSIC "BIBLE OF WOMEN'S HEALTH," A TRUSTWORTHY, UP-TO-DATE GUIDE TO HELP EVERY WOMAN NAVIGATE THE MENOPAUSE TRANSITION For decades, millions of women have relied on Our...
Continue Learning about Menopause