During menopause, it's imperative for you to have something that allows you to jack up that heart rate, cover yourself in sweat, and reach a point where you're panting. Right away, you'll feel this rush of "Oh my gosh!" That's your energy tap. Open that up. Foods do play a huge role, but the physical part of exercise is also where it's at. Think of it this way: We're not churning the butter. We're not putting our clothes on the line, washing our cars, or doing any physical labor like we used to. You've got to do something else if you don't want to take this other route of reluctantly succumbing to changes in your body. Walk or bike ride up a steep hill, or climb stadium stairs. Get a trainer to make you work out harder. Find a friend who is more fit than you and tag along. Make goals for yourself. Don't let the excuses pile on. You can find something to help you lose weight!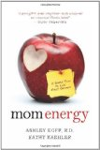 More About this Book
Mom Energy: A Simple Plan to Live Fully Charged
       From celebrated dietitian Ashley Koff and fitness trainer to the stars Kathy Kaehler comes Mom Energy, an exciting new way for moms to tap into their own natural and renewable sources of...
Although the hormonal environment in which you live has changed from your younger years the rules of weight loss do not. This is good news, you still are in control. Eat less than you need on a daily basis, over an extended period of time and you can lose as much or as little weight as you want. Your body as long as you are alive has metabolic needs that must be fueled with food. These needs will alter as time and change occur but the need for food will not. You must eat; you just must modify how much you eat so that you can achieve your body weight goals. Combine this with a smart exercise program and you can achieve your fitness goals. Have a great and active day!!
Continue Learning about Menopause