If your doctor prescribes a treatment for menopause, he or she should be able to tell you how likely it is to be effective. If not, you can do some detective work online—though do it with some skepticism, since misinformation about menopause treatments abounds on the web. Web sites run by the U.S. government and large medical associations are your best bet.
Your physician is less likely to know as much about alternative treatments for menopause symptoms. You can find information about some common herbal therapies, such as black cohosh and red clover, on the National Institutes of Health's Office of Dietary Supplements web site (http://ods.od.nih.gov). Ultimately, however, once you begin using any treatment for menopause, only you can decide: Does it work? Do my symptoms go away, or at least become more manageable? If not, tell your doctor, who may have other options for you to consider.
To evaluate treatments for menopause, look carefully at medical evidence that shows how well they work. For instance, there isn't a lot of scientific research showing that black cohosh, soy and other botanicals recommended for menopause symptoms are effective. These herbal medications may also have undesirable side effects and may cause liver damage.
On the other hand, menopausal hormone therapy can help relieve menopause symptoms, such as moderate to severe hot flashes, vaginal dryness and thinning bones, but may increase your risk of some types of cancer, heart attacks, blood clots and other health problems.
Every woman experiences menopause differently, and your doctor can help you choose a treatment that's right for you.
To learn more about a proposed treatment, whether conventional or alternative, ask your provider and do some research on your own. Questions to consider include:
What is the treatment's success rate and how do we know it?
Is the treatment permanent(such as surgery)?
Is it systemic (affecting the whole body, as in chemotherapy or hormonal therapy)?
Is it cumulative (staying in the body and increasing with each treatment, as in radiation)?
Can the effects be harmful, and how?
Are there less drastic treatments available?
What will happen if the recommended treatment is not followed? How is this proven?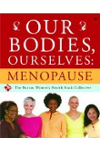 More About this Book
Our Bodies, Ourselves: Menopause
FROM THE EDITORS OF THE CLASSIC "BIBLE OF WOMEN'S HEALTH," A TRUSTWORTHY, UP-TO-DATE GUIDE TO HELP EVERY WOMAN NAVIGATE THE MENOPAUSE TRANSITION For decades, millions of women have relied on Our...
Continue Learning about Menopause