Mayan women in Yucatan, Mexico, don't report any hot flashes—the external sign of internal drops in estrogen levels during menopause. Only about 10 percent of Japanese women report having hot flashes with menopause. By contrast, nearly two-thirds of Western women report having them. The difference between women in the United States, for whom hot flashes are common, and Mayans and Japanese, for whom they are rare or unknown, appears to be diet. The Mayan diet consists of corn and corn tortillas, beans, tomatoes, squash, sweet potatoes and radishes, with very little meat and no dairy products. The traditional Japanese diet is also extremely low in meat, dairy and fat, while being high in soy and fish protein. The animal-based meals of the Western diet affect hormone levels and undoubtedly contribute to the menopausal problems that are common in Western countries. More About this Book
Dr. Ro's Ten Secrets to Livin' Healthy: A Nationally Renowned Nutritionist and NPR Contributor Shows You How to Look Great, Feel Better, and Live Long by Eating Right
In this one-of-a-kind book, Dr. Rovenia M. Brock—known as Dr. Ro™ to fans of Black Entertainment Television's Heart & Soul—reveals practical, satisfying ways for African American women to eat healthy, get fit, and overcome weight problems and the health risks that accompany them.From the "Big Ten" myths about miracle weight-loss diets to how eating the right foods can help you live longer and why soul food (if prepared properly) really can be good for you, Dr. Ro shows how many serious illnesses can be largely prevented—and even reversed. And you don't need Oprah's salary to do it. Using her own inspiring story and those of many other women as well, Dr. Ro discusses the health, fitness, and even cultural issues that are unique to black women, and outlines a diet and nutrition program to fit every lifestyle.From the Hardcover edition.
Some women find that limiting or totally avoiding spicy foods, hot drinks, soups, alcohol, sugary snacks, chocolate and caffeine (in coffee, tea, cola, and headache preparations) may help. However, no research has shown that these foods aggravate hot flashes. Experiment by eliminating such foods from your diet.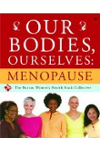 More About this Book
Our Bodies, Ourselves: Menopause
FROM THE EDITORS OF THE CLASSIC "BIBLE OF WOMEN'S HEALTH," A TRUSTWORTHY, UP-TO-DATE GUIDE TO HELP EVERY WOMAN NAVIGATE THE MENOPAUSE TRANSITION For decades, millions of women have relied on Our...
Continue Learning about Menopause