Hormone treatments can have a huge effect on the quality of life following surgical menopause. When we talk about surgical menopause we are referring to menopause that occurs when the ovaries are removed. Sometimes a surgeon will remove the ovaries during a hysterectomy, and sometimes the ovaries are removed sparing the uterus. It depends on a woman's age and why she needs the surgery in the first place. There are a couple of scenarios to mention. If a women is younger than 40 when she has both ovaries removed (bilateral oophorectomy), she can have a sudden drop in estrogen and symptoms might be quite severe. This is a unique group of women because they are still relatively young and they will benefit greatly from replacing the hormone production because their bodies will be deprived for many years. And it appears that younger women are at risk for some serious health risks if they go a long time without estrogen. This is in contrast to older postmenopausal women who have their ovaries removed. Because the surgery is performed later, closer to the time she would have gone through menopause naturally, the decision is more complicated. She will need to talk to her doctor about the risks and benefits of menopause hormone therapy (MHT) based on her symptoms and health profile.
Many women who take hormone treatment after surgically induced menopause report getting relief similar to that experienced by women who take hormones after natural menopause. Specifically, many women report fewer episodes of hot flashes and night sweats. Researchers have also found that younger women who report memory loss after a hysterectomy do better on some cognitive tests after beginning to take estrogen, but we don't know whether this is truly an effect of the estrogen or whether it might be explained by other factors. For older women, the research evidence is clear: the Women's Health Initiative (WHI) found that taking estrogen increased the risk for dementia in women over 65 who have had a hysterectomy.
Little research has examined the health risks of taking hormones for those of us who have had the ovaries removed. The WHI provides some data that is relevant, since all of the women in the estrogen-only part of the study had a hysterectomy, though some of them still had their ovaries. The WHI found that hormone treatment increased the risk of stroke in women who had a hysterectomy. The WHI also indicated that in colorectal cancer or a heart attack, there was neither a risk nor a benefit for these women and the effect of hormone treatment on blood clots and breast cancer for these women was uncertain. It is important to note, however, that for women whose ovaries were removed specifically to treat cancer, the risk of either recurrent cancer or other cancers associated with hormone treatment may be greater than for other women.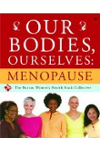 More About this Book
Our Bodies, Ourselves: Menopause
FROM THE EDITORS OF THE CLASSIC "BIBLE OF WOMEN'S HEALTH," A TRUSTWORTHY, UP-TO-DATE GUIDE TO HELP EVERY WOMAN NAVIGATE THE MENOPAUSE TRANSITION For decades, millions of women have relied on Our...
Whether or not it is safer to use hormone treatment after surgical menopause has been questioned for a long time. We now have a follow up of almost 29,000 women who had their uterus surgically removed (a hysterectomy) before the natural age of menopause. Approximately half of the women also chose to remove their ovaries, while the remaining half kept their ovaries. The women were followed for 24 years. While the women who had their ovaries removed had much lower risk of either breast cancer or ovarian cancer, their risk of dying from other cancers was increased above that of the risk of women who kept their ovaries. We don't understand why this is so, but the information is helpful in individualizing care of women after a hysterectomy before menopause. If she has an increased risk of ovarian or breast cancer, she may decide not to use hormones. For most women who have an average risk, however, the use of hormones may be the best choice.
Continue Learning about Menopause