Some women grow facial hair after menopause because of the hormonal changes. There is relatively more active testosterone in postmenopausal women, and as years go by, that testosterone -- although not extremely high or on the same level as men -- will convert a woman's peach fuzz-like hair to terminal hair, which is that more masculine, bothersome facial hair.
Now, growing a mustache may very well be a rite of passage for teenage boys, not to mention 70s sitcom stars. But it can also be an unwelcome one for menopausal women, because of hormonal changes. About 30 percent of women report unwanted hair on the face. The cause? Too much male hormone, often caused by polycystic ovarian syndrome or by the loss of estrogen after menopause, which accelerates hair growth. This excess hair is generally a harmless condition, but you can treat it a number of ways, including bleaching, plucking, laser therapy, or electrolysis (an electric current damages follicles so hairs don't grow back). Electrolysis (as long as it's done by someone who's trained to do it) can work well for those with unwanted blond or white hair, since lasers aren't as effective for them. If you're going to wax any part of your body, ask to have room-temperature wax, not hot wax; the cooler kind will generally do less damage as the wax rips the hair and follicle from your skin. Wait a year after stopping Accutane or steroids before considering waxing. If you don't, you might not only be hairless but skinless. Another remedy: Losing weight. Weight loss (works in women and men to decrease unwanted hair and increase wanted hair) can decrease male hormone levels and slow down the growth of unwanted moustaches.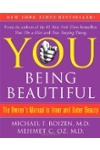 Continue Learning about Menopause

If you are a woman in your 40s and 50s, you might notice that your periods start to change as menopause approaches. During menopause, the menstrual cycle becomes less predictable, and many women start to experience uncomfortable s...
ymptoms like hot flashes, vaginal dryness, and/or changes in mood.
More