For reasons still not well understood, declining and fluctuating estrogen levels during the menopausal transition can cause emotional highs and lows and irritability. Lack of sleep due to night sweats may also contribute to feeling irritable and depressed. Though your periods are coming to an end, you may continue to experience the symptoms of premenstrual syndrome. In fact, emotional symptoms may become worse for some women as they approach menopause. You may also notice that you've lost interest in sex. Declining estrogen and changes in estrogen/testosterone ratios in women at this time may lower your sex drive.
Lifestyle strategies for coping with mood swings and sexuality concerns include:
Make physical activity part of your schedule; exercise can improve mood and make you feel better about yourself.
Try relaxation techniques such as meditation or massage, which can be calming and reduce irritability.
Discuss your symptoms and what may be causing them with your partner; try different approaches to intimacy. Nonhormonal vaginal creams or gels (prescription or nonprescription) are available that may help.
If moisturizers and lubricants are not enough, vaginal estrogen (a prescription medication) is available as creams, rings or tablets.
When sleep is disrupted and/or you are experiencing symptoms that affect your relationship with your partner, it can have an effect on your emotional outlook. Discuss with your healthcare professional whether your symptoms may be directly related to menopause or to some other changes that may be happening in your life at the same time.
There are as many theories about why mood changes during menopause as benches in Central Park. Frequent nighttime urination and hot flashes can keep you from getting a good consolidated night's sleep, sex drive and vaginal lubrication take a nosedive, and extra pounds can creep up on you. That's depressing in and of itself, but under the surface, there's a lot going on that can make you feel like you're on a mood roller coaster.
Estrogen affects the mood-regulating brain chemicals serotonin, dopamine and endorphins. Other hormones like testosterone also become increasingly erratic during menopause. These fluctuations can increase your risk of depression, anxiety, and irritability. If you are experiencing any changes in mood, tell your doctor. There are a great many effective treatment options.
Mood swings or irritability during menopause can be a combination of hormonal changes and menopausal symptoms. Any attitudes or negative feelings that can significantly alter daily life or happiness should be addressed with your doctor.
Women develop mood problems and depression if they experience hot flashes and night sweats than if they do not. Women who have a long menopause transition have been shown to be at a higher risk of developing mood problems. Mood problems may coincide with the time when menstrual periods are skipped. The exact percentage of women who have mild-to-moderate mood problems versus those with more serious mood problems is hard to say, as the medical studies have used different ways of measuring mood.
Certain risk factors increase a woman�s chance of developing mood problems or depression with menopause, although some women may have these risk factors and not develop mood problems. The risk factors are:
A history of having a depressed mood or depression
A postpartum depression or premenstrual syndrome
Stressful life events
A high-stress home or work environment
An unhealthy lifestyle�smoking and getting little exercise
Difficulty paying for the basics
Lower educational level
Health problems
Lack of a partner or single parenthood
Negative attitudes toward aging and menopause
Hot flashes or night sweats along with other bodily symptoms of menopause
An early natural menopause (before age 40)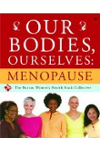 More About this Book
Our Bodies, Ourselves: Menopause
FROM THE EDITORS OF THE CLASSIC "BIBLE OF WOMEN'S HEALTH," A TRUSTWORTHY, UP-TO-DATE GUIDE TO HELP EVERY WOMAN NAVIGATE THE MENOPAUSE TRANSITION For decades, millions of women have relied on Our...
Continue Learning about Menopause