Sometimes, changes in ovulation occur in an unpredictable way. Although a woman may be having menstrual periods, she may not ovulate, or she may not have a period for several months and then ovulate. As a result, women may be at risk of an unplanned pregnancy if they assume that they are no longer fertile. For this reason, it is important to use a birth control method until you have not had a period for a year or longer.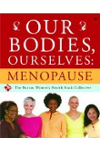 More About this Book
Our Bodies, Ourselves: Menopause
FROM THE EDITORS OF THE CLASSIC "BIBLE OF WOMEN'S HEALTH," A TRUSTWORTHY, UP-TO-DATE GUIDE TO HELP EVERY WOMAN NAVIGATE THE MENOPAUSE TRANSITION For decades, millions of women have relied on Our...
Menopause is when periods stop completely, but it is confirmed after one year of no periods and therefore only recognized 12 months after the fact. Conceiving, therefore, can't happen during menopause because eggs are no longer being released and the ovaries are no longer releasing hormones that make pregnancy possible. However, perimenopause is "the time around menopause" when periods are irregular and hormone levels are changing. Therefore, it could be possible to still conceive during perimenopause.
A woman's fertility, or ability to get pregnant, becomes unpredictible as she nears menopause. The hormones from the ovaries and the brain that communicate and control the maturing and ovulation of eggs each cycle are less reliable. Overall, women ovulate less frequently but they may ovulate either earlier or later in the cycle. This means an unplanned pregnancy can occur while at the same time a planned pregnancy is more difficult to acheive.
Since many women are not aware they can still get pregnant as they approach menopause, they may not use contraception as carefully. A large study, the National Survey of Family Growth, showed that the rate of unplanned pregnancies is highest in the teens, and the in the forties.
Continue Learning about Menopause