Some women report that vitamin and herbal supplements are helpful in managing menopausal symptoms. For instance, phytoestrogens—naturally occurring compounds in certain plants, herbs and seeds—are similar in chemical structure to estrogen and produce estrogen-like effects.
Soy products (tofu, tempeh, soy milk, soy burgers and roasted soy nuts), certain herbs (red clover) and legumes (chickpeas, lentils and various kinds of beans) contain specific types of phytoestrogens called isoflavones. These are healthy foods that are excellent sources of protein and calcium and can be added to your diet.
Some studies show that the isoflavones (weak, plant-derived estrogens) in soy foods and dietary supplements can reduce mild hot flashes. But most studies show they are no more effective than a placebo. Talk to your doctor before taking any form of isoflavones.
Black cohosh has been widely used in Europe for the treatment of hot flashes, and it has become more popular among U.S. women who want something to curb their hot flashes. The supplement's safety record is good, but there is no real good research supporting its effectiveness in treating menopausal symptoms. Talk to your doctor about black cohosh before taking any form of the supplement.
There is also no scientific evidence to support the effectiveness of evening primrose oil, ginseng, kava, licorice, sage and dong quai root. Discuss any herbal or vitamin supplements you are considering taking with your healthcare professional. Bear in mind that studies related to their effectiveness are sparse, and the U.S. Food and Drug Administration doesn't oversee the production of supplements and does not require manufacturers to prove their products are safe. Also be aware that high doses of certain vitamins and herbal supplements can be dangerous. For example ephedra used in some weight-loss products has potentially serious side effects. Mixing herbal supplements with some prescription drugs can also be dangerous. So again, be sure to tell your healthcare professional everything you take.
There is some support for the idea that some herbal remedies may help alleviate menopausal symptoms. The most commonly used herbal remedies for menopausal symptoms are black cohosh, St. John's-wort, valerian, ginseng, dong quai, and evening primrose oil. However, according to the National Center for Complementary and Intergrative Health, none have been clearly shown to reduce menopause symptoms. Tell your doctor if you are taking any supplements, especially if you are being precribed medicine. Herbs should not be used during pregnancy.
Phytoestrogens, such as soy, may be effective to manage menopause symptoms in some women. But check with your doctor, says Elizabeth Poynor, MD, PhD, a gynecologist-oncologist in New York City, before using a dietary supplement to treat menopause.
Obstetrician/gynecologist and functional medicine expert Dr. Wendy Warner suggests some natural treatments for menopause symptoms. Watch Dr. Warner's video for tips and information on women's health.
Vitamins, minerals and herbs recommended for headache treatment are generally safe and appropriate to use for headaches during menopause.
Some women opt to treat menopause symptoms with natural estrogen products, called phytoestrogens. Phytoestrogens come from plants and are sometimes called dietary estrogens. Common sources of phytoestrogens are soy, red clover and black cohosh. Phytoestrogens have been shown to reduce menopause symptoms, although not all studies show benefit. While phytoestrogens have been shown to reduce menstrual migraines, they have not been specifically tested for migraines after menopause. Studies treating menopausal symptoms with phytoestrogens have shown reductions in headache. Be sure to let your healthcare provider know if you are using phytoestrogens. Although eating dietary sources of phytoestrogens is likely to be safe, studies have not been conducted to determine if using supplements containing phytoestrogens long-term may have similar health risks to prescription hormone therapy.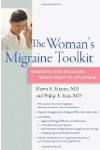 Some women try herbal or other plant-based products to help relieve hot flashes. Some of the most common ones are:
Soy. Soy contains phytoestrogens (estrogen-like substances from a plant). But, there is no proof that soy—or other sources of phytoestrogens—really do make hot flashes better. And the risks of taking soy—mainly soy pills and powders—are not known. The best sources of soy are foods such as tofu, tempeh, soymilk and soy nuts.
Other sources of phytoestrogens. These include herbs such as black cohosh, wild yam, dong quai and valerian root. Again, there is no proof that these herbs (or pills or creams containing these herbs) help with hot flashes.
Products that come from plants may sound like they are safe, but there is no proof that they really are. There also is no proof that they are helpful at easing symptoms of menopause. Make sure to discuss these types of products with your doctor before taking them. You also should tell your doctor about other medicines you are taking, since some plant products can be harmful when combined with other drugs.
This answer is based on source information from the National Women's Health Information Center.
There are many herbal remedies that can reduce the symptoms of menopause, including black cohosh, St. John's wort and sage. In this video, integrative medicine specialist Tieraona Low Dog, MD, describes the healthy benefits of these potent herbs.
Continue Learning about Menopause