Take care of yourself. Keep your memory in good working order while you are traveling by eating well, getting plenty of exercise and sleeping on a regular schedule.

Travel with photocopies of important documents. If you are traveling overseas, take a photocopy of your passport and two extra passport photos with you and keep them separate from your original passport. If your passport is lost or stolen, you'll have what you need to replace it. It may also be a good idea to copy your airline ticket, traveler's checks and driver's license. Keep one set for yourself, away from the originals; leave one set with a friend or family member; and keep another in the hotel safe at your destination.

Make photocopies of both sides of your credit cards. Keep one in a file at home, give your spouse a copy and leave one in a safe place away from your card when you travel. If you lose a card, it'll be easy to report. (The phone number to report your loss is on the back of each card.)

Keep travel information organized in a file. For long trips, use a file organizer with divider tabs to keep all your travel information together in one place. Dividers might include hotel (address, phone number, confirmation information), car rental, travel documents (copies of passport, tickets), destination information (maps, travel brochures, articles) and phone cards. Keep the file organizer in your carry-on bag and everything will be accessible when you need it.

When you travel, attach a tag to your carry-on bag that indicates your flight numbers, departure times and seat assignments. Then put your tickets safely away in your bag until you need them to get through security.

Take note of what your traveling companion is wearing. Airports, railway and bus stations, ships, trains and even large aircraft are usually busy and confusing places where it's easy to lose touch with a traveling companion. Always take note of what your companion is wearing. It can also be useful to carry a recent photograph of them.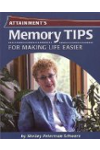 More About this Book
Memory Tips Making Life Easier
Written by memory and aging expert Shelley Peterman Schwarz, Memory Tips for Making Life Easier delivers just what its title promises. Written for health care professionals, family caregivers, and...
Continue Learning about Memory Loss