If you lose something, breathe slowly and avoid panicking. If your brain is overtaxed and stressed, it will have difficulty remembering anything, so take a deep breath and count to 10. As you calm down, you should notice your thinking getting clearer.
If you forget what you're doing or lose something, stop and walk backward in your mind. Tell yourself to relax, close your eyes and retrace your steps mentally until you remember. If that doesn't work, physically retrace your route and go to where you last remember seeing the item you're looking for.
Put your car keys with items you might forget. If you tend to leave coats, umbrellas or even groceries at a friend's house, put your car keys with the item you're likely to forget, such as in your coat pocket, on your umbrella handle or in your grocery bag. You can't go very far without remembering.
Keep a small container filled with essentials (a little money, a pair of earrings, a spare tie) in your car's glove compartment.
Mark possessions you tend to lose. Put your name and telephone number or address on umbrellas, books and other items you tend to leave behind. This will enable others to return them. Note: It's not a wise idea to put your address on your keys.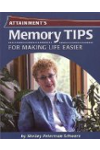 More About this Book
Memory Tips Making Life Easier
Written by memory and aging expert Shelley Peterman Schwarz, Memory Tips for Making Life Easier delivers just what its title promises. Written for health care professionals, family caregivers, and...
Continue Learning about Memory Loss