Benign forgetfulness happens to the majority of people over age 65. It is annoying but not serious. Benign forgetfulness is characterized by relatively minor slowing of your memory capacity and manifests itself in a number of little ways such as forgetting where you parked your car, or recognizing someone at a social gathering but being unable to recall their name right then and there. (A little while later the name comes back to you, and you feel somewhat foolish.) Or, it may be a matter of having more difficulty in learning new information—learning how to operate new gadgets or remembering new phone numbers may not be as easy as it was years ago.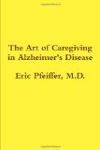 More About this Book
The Art of Caregiving in Alzheimer's Disease
This is an A to Z Guide to the caregiving experience in Alzheimer's disease. It is easy to read, easy to follow. It is authorative, based on thirty years of experieReconce in caring for Alzheimer's...
Continue Learning about Memory Loss