Creating good habits allows your memory to work on only the important things. You can develop a routine for almost everything, from getting ready in the morning to how you drive home. Then even on the most stressful days, your mind will walk you through your daily routine as if on autopilot.
Complete tasks in the same order and store keys, glasses, purses or wallets in the same place so you know where to find them. If you tend to forget your bag when you're out, put it in front of you where you can easily see it and are less likely to leave it behind.
After dinner or before bed, organize yourself for the next day by gathering up all the materials you'll need for your errands. Put everything by the door or in the car for the following morning.
Structure the daily routine to maintain a sense of familiarity. Not only will this help a person remember where to go or what to do next, it will help others locate the person if need be.
Write down step-by-step instructions for tasks performed infrequently. Use pictures to illustrate the tasks and post the steps near where the activity is performed so everyone can follow the instructions easily. This will provide continuity of care and reduce confusion for the person with memory problems.
Establish a calming nighttime ritual away from the nose and activity of other family members. During the day limit caffeine, promote exercise and discourage napping.
To keep from being overwhelmed, make a list at the beginning of each week of what you need to accomplish. Use a daily planner or wall calendar. Break the list down to no more than one difficult or time consuming task per day. If you think you might not get everything done, prioritize your list. If a task remains undone, add it to the next week's list.
Dedicate a basket or shelf to each day of the week to help you remember what to take with you each morning. Place things on the shelf or in the basket for the appropriate day. When you leave that day, you'll have all the things together you need.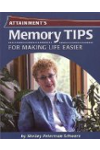 More About this Book
Memory Tips Making Life Easier
Written by memory and aging expert Shelley Peterman Schwarz, Memory Tips for Making Life Easier delivers just what its title promises. Written for health care professionals, family caregivers, and...
Continue Learning about Memory Loss