If you have memory problems, create your own TV guide. If you have difficulty remembering the time of favorite television programs, make a TV guide that lists in words and pictures the program, channel number and time slot for each day of the week. Post this list of programs next to the TV or favorite chair, perhaps in a stand-up picture frame like in hotels. To make a remote control easier to use, clearly identify important buttons such as on/off and channel changer.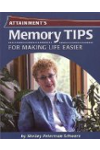 More About this Book
Memory Tips Making Life Easier
Written by memory and aging expert Shelley Peterman Schwarz, Memory Tips for Making Life Easier delivers just what its title promises. Written for health care professionals, family caregivers, and...
Continue Learning about Memory Loss