Keep your morning medication and a glass of water at your bedside so you remember to take it first thing in the morning. If your medication takes time to work, go back to sleep for a few minutes.

Put your bedtime pill on your nightstand so you'll remember to take it right before bed. Keep extra pills and a straw in your nightstand, too.

Use a weekly pill organizer to keep track of doses. If you're worried you might not remember whether you took a pill, fill a weekly organizer with your pills and take each day's dose from the appropriate section.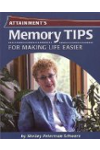 More About this Book
Memory Tips Making Life Easier
Written by memory and aging expert Shelley Peterman Schwarz, Memory Tips for Making Life Easier delivers just what its title promises. Written for health care professionals, family caregivers, and...
At first, it may seem like a chore to remember to take your medication at the right times and with the right foods. Tools like alarms, watch alarms, computer alerts, pager alerts, mobile phone alarms or a pre-fillable medication container can make staying compliant easier. Some take their medication at the same time as another daily activity (e.g. while making breakfast or brushing teeth). Others have a family member remind them.
If you forget to take your medication, put meds in containers divided by days of the week and times of the day. Ask family and friends for assistance, and download smartphone apps with text reminders and alarms. More than 125,000 people in North American die every year because they didn't follow their medication regimen. Even more are hospitalized. Small steps like the ones I mentioned can bring those numbers down to zero.
A study of the medication-taking habits of older adults found that only 40% of participants were taking their potentially lifesaving medications properly. In asking what kept that 40% on target, the researchers found the following strategies:
Store your medications in the bathroom. Most people stored their medicines in the bedroom, but those who kept their medications in the bathroom remembered to take them more often.
Integrate taking medicines into your morning routine. Making medications part of your to-do list every morning (such as sitting down with your pill box after breakfast) becomes second nature and makes you less likely to forget.
Take your medication at a specific time of day that's the same every day. Research has shown that when routines change, medications are forgotten. Resist the temptation to take them later because you're busy with something else.
This content orignally appeared on doctoroz.com.
Continue Learning about Memory Loss