Reminisce about pleasant events to keep memories alive. Magazines and picture books about country life, babies, animals or another favorite topics can be a catalyst for conversation. Bridal magazines and cookbooks may also be enjoyable.

Create a memory box. Decorate a medium-size box with the word "Memories" on the outside. Put photographs, newspaper clippings, mementos of trips and art projects from children and grandchildren inside. A stroll in the memory box will help keep your memories fresh and provide a wonderful opportunity for sharing time with loved ones.

Purchase a large scrapbook and when special days or events roll around, fill a page or two with anecdotes, best wishes, drawings and pictures. The book will be a permanent record of precious times and provide food for happy memories and conversation far in the future.

Carry a digital or disposable camera. A great way to remember special moments is to carry a digital or disposable camera. Tuck it in your purse or pocket so it's always available to capture those unexpected, magical moments. Take pictures at the grocery store, department store, library, car wash, park and so forth. Place them in a photo album or scrapbook so you and others can relive special moments over and over.

Make home movies. Use your video camera to take movies of your family, home and neighborhood. This is a great way to spend time with your family and keep everyone involved in each other's lives.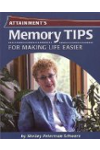 More About this Book
Memory Tips Making Life Easier
Written by memory and aging expert Shelley Peterman Schwarz, Memory Tips for Making Life Easier delivers just what its title promises. Written for health care professionals, family caregivers, and...
Continue Learning about Memory Loss