Keep a large envelope in the glove compartment of your car and put receipts for new tires, oil changes, tune-ups and batteries inside. Write the dates of your last tune-up, oil change or tire rotation on the outside of the envelope so you'll know at a glance when your car is due for these services again. At the end of the year, transfer the last service dates to a new envelope and file the envelope in your automotive file by year. If you don't need records for income tax or other purposes, separate out the major repairs and warranties and discard the rest.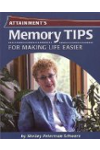 More About this Book
Memory Tips Making Life Easier
Written by memory and aging expert Shelley Peterman Schwarz, Memory Tips for Making Life Easier delivers just what its title promises. Written for health care professionals, family caregivers, and...
Continue Learning about Memory Loss