To help you set the table correctly, remember that "left" has four letters and so does "fork." "Right" has five letters, as do "knife" and "spoon."

Placemats with tableware outlines make remembering how to set the table easy. Draw outlines of tableware (plate, bowl, tumbler, knife, fork and spoon) on paper placemats and laminate. To set the table, match the item to the outline. Or purchase a Table Setting, which includes four plastic tableware sets and four illustrated placemats.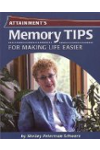 More About this Book
Memory Tips Making Life Easier
Written by memory and aging expert Shelley Peterman Schwarz, Memory Tips for Making Life Easier delivers just what its title promises. Written for health care professionals, family caregivers, and...
Continue Learning about Memory Loss