Limit errands to one or two at a time if remembering a sequence of four or five errands is too frustrating or tiring. After one or two errands, go home and get organized for the next set of errands. Go out again when you feel rested.

Think over the route for the stops on your errand trips and write it down if you are prone to forgetting the sequence. Before you leave home, consider: Is this a good time of day to be going to the library or post office? Will the drive-up windows at the bank be open? Will there be lines? Rearrange the sequence of stops to make it most convenient for you.

To remember all your errands while you're out, write the list on a sticky note, put it on the dashboard and check off the errands as you do them. If this is still too far out of sight and thus out of mind, put your list near the speedometer so when you check your speed you're reminded of what you have to do.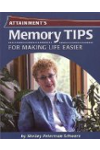 More About this Book
Memory Tips Making Life Easier
Written by memory and aging expert Shelley Peterman Schwarz, Memory Tips for Making Life Easier delivers just what its title promises. Written for health care professionals, family caregivers, and...
Continue Learning about Memory Loss