Keep a diary so you can recall what you did, who you talked with and so forth.

Log telephone calls, recording the date and time of the call, the person you spoke with and what you discussed. Not only will this help imprint the information in your memory, but you'll have a permanent record of the conversation should you need to refer to it later. A telephone log can be extremely helpful when you communicate with technical support, billing departments, insurance companies and Social Security.

On the back of a person's business card write down where you met, something about the individual's appearance, what you talked about -- anything that will jog your memory later.

To remember what you said in a note, use carbon paper between two sheets of notebook paper and keep the copy. You can also use carbonless paper available by the sheet or ream at office supply stores.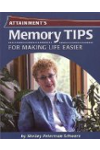 More About this Book
Memory Tips Making Life Easier
Written by memory and aging expert Shelley Peterman Schwarz, Memory Tips for Making Life Easier delivers just what its title promises. Written for health care professionals, family caregivers, and...
Continue Learning about Memory Loss