Change alarm batteries once a year. A smoke alarm, radon detector or other battery-powered device is only as reliable as the batteries that operate it. To keep your family safe, be sure to change the batteries once a year. A good way to remember to change the batteries is to do so on the day of an annual event. For example, change the batteries at Thanksgiving as part of your holiday preparations. Or choose a birthday, anniversary or the end of daylight savings time in the fall. If you are unable to change the batteries yourself, contact your local fire department for assistance.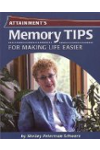 More About this Book
Memory Tips Making Life Easier
Written by memory and aging expert Shelley Peterman Schwarz, Memory Tips for Making Life Easier delivers just what its title promises. Written for health care professionals, family caregivers, and...
Continue Learning about Memory Loss