There are several things you can do to improve your memory for appointments and schedules. First, keep track of your family's appointments with an erasable calendar you design to meet your specific needs. Start with a blank calendar page with six rows of seven boxes. Fill in the days of the week in the first row but leave the name of the month and the dates blank. Make your calendar whatever size works for you -- small enough to fit where you want to put it but large enough to record all the information you need. Take two -- one for this month and one for the next -- to your printer or copy shop and have them laminated. Using dry erase markers (regular markers will cause permanent stains), write the month and each day's date in the appropriate boxes. You can use this same technique to create a custom message board for a to-do list, medicine schedule or TV guide.

Post reminders and appointments on a do-it-yourself chalkboard. Almost any flat surface (doors, cabinets, etc.) can be turned into a chalkboard by spraying Krylon Chalkboard Paint on it.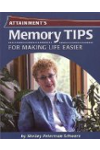 More About this Book
Memory Tips Making Life Easier
Written by memory and aging expert Shelley Peterman Schwarz, Memory Tips for Making Life Easier delivers just what its title promises. Written for health care professionals, family caregivers, and...
Continue Learning about Memory Loss