Here are some tips to help you make using the phone easier if you have memory problems:
Get free directory assistance. If you have a medical condition and a doctor verifies that you have trouble using a telephone book or remembering a phone number long enough to dial it, you may qualify for free directory assistance. Contact your telephone company's special needs or services department for more information.
Take note of automatic telephone menu choices. If you call a clinic, pharmacy, store or business regularly that has a menu of options (Press 1 for hours, 2 for appointments, etc.), make note of the choices that connect you to the information, person or office you want to reach. Write them in your phone book so the next time you call you can enter the number without having to listen to every option.
Use a cordless phone with a locator button. If you like the convenience of a cordless phone but keep misplacing the handset, purchase a phone with a locator button. When activated, this feature emits a loud beeping sound to help you find the handset between sofa cushions or in another room, wherever it may have been left.
The Amplified Photo Phone may help keep you in touch with loved ones. Program each of the nine quick-dial buttons on the phone and add photos as visual cues of who will be called (mother, child, friend, doctor, emergency, etc.) when that button is pushed. To call, push the button with the appropriate picture. The phone also has a loud ringer helpful to people who are hard of hearing.
Put a red dot on your phone's "0" button or the "0" on the dial so that older adults who may be unable to dial 911 will know which number to use to call in case of emergency.
Put an address and phone label on your phone for emergencies. Using a label maker or self-adhesive label, print your address and phone number and put a label on each telephone in your home. If you or a visitor needs to summon help, the necessary information will be right at your fingertips.
Purchase a Telephone Hanger-Upper. If a family member tends to leave the phone off the hook, the Automatic Telephone Hanger-Upper may be a solution. This device disconnects the phone line if the person forgets to place the handset back into the cradle. When another call comes in, the phone will ring even if the handset isn't in the cradle.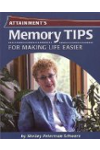 More About this Book
Memory Tips Making Life Easier
Written by memory and aging expert Shelley Peterman Schwarz, Memory Tips for Making Life Easier delivers just what its title promises. Written for health care professionals, family caregivers, and...
Continue Learning about Memory Loss