Create a packing list. Include the obvious: Clothing, accessories, toiletries and so forth. Also include the not-so-obvious: Trip information (maps, itinerary, passports), address book, stamps for postcards, laundry bag (for dirty clothes), extra canvas bag (for purchases) and fun stuff (games, reading material, sporting equipment). Each family member may want to create an individual list.

Laminate an all-purpose list of things you pack in your suitcase. Use an erasable marker to check things off as you pack. When you finish packing, wipe off the list and store it in your travel file. If you need to add additional items unique to a trip, put a sticky note on the laminated list.

Select a place to gather travel items prior to packing. As you remember things that aren't on your general packing list (gifts, cards, camera bag, extra medication, etc.), put them in this place so you'll remember them when you pack your bags.

Keep a packing checklist permanently inside your suitcase. Add to the list as your travel destinations change.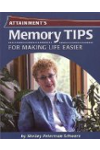 More About this Book
Memory Tips Making Life Easier
Written by memory and aging expert Shelley Peterman Schwarz, Memory Tips for Making Life Easier delivers just what its title promises. Written for health care professionals, family caregivers, and...
Continue Learning about Memory Loss