The following suggestions will help you organize your kitchen if you have memory problems:
Label the contents of each cabinet and drawer, including file cabinets, linen cabinets and dresser drawers. Label shelves, dividers, boxes and containers so everyone knows what goes where. This is especially helpful when company comes or you're sick and someone is helping you. If everything is labeled, they don't have to keep asking you where things go.
Use pictures on kitchen drawers and cabinet doors to help someone find things like silverware, plates, napkins and cups. A picture of a box of breakfast cereal, for example, could go where cereals are kept.
Drawer organizers in contrasting colors will help you remember where specific items are stored. For example: All red-topped containers go under the sink and all blue-topped containers go back to the workbench. Organizers can be found at discount, kitchen or grocery stores.
Keep a small flashlight handy for those times you can't remember what's "back there" in deep cupboards and cabinets.
Use transparent plastic containers to see what's inside. Write the contents of the container on an index card and place it where you can see it when you open the drawer or door. Even if your memory is good, this will help you locate items quickly.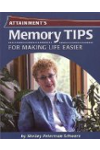 More About this Book
Memory Tips Making Life Easier
Written by memory and aging expert Shelley Peterman Schwarz, Memory Tips for Making Life Easier delivers just what its title promises. Written for health care professionals, family caregivers, and...
Continue Learning about Memory Loss