Here are some suggestions to help you organize your documents if you have memory problems:
Keep important documents in containers. Store receipts, bills, warranties and so forth in clear or colorful plastic pouches, accordion files, folders or binders. Once a month go through your receipts and file large-purchase credit card receipts by company so you'll know where to find them if you need to return something. Toss unneeded cash receipts and shred ATM, deposit and credit receipts after checking them against your statements. If you keep your filing system up to date and labeled with the same categories used on income tax forms, doing your taxes will be easier.
Use color-coded clipboards and step files. Things out of view are often forgotten. One way to keep to-do lists and other important information orderly and in view is to store color-coded clipboards in a stepped file holder, which displays folders at different heights. Use a different color (pink = office, blue = business, green = household) for each category or family member.
Use a card file box for addresses. Instead of the usual address book, purchase a 3" x 5" card file box, index cards and alphabetical index tabs. You'll have space to write all the things you want to remember in one place: Names, addresses and phone numbers, work numbers and addresses, anniversaries and birthdays.
File or store by category. If you have trouble remembering the specific names of businesses or agencies you need to contact on an occasional basis, record or file this information first by category and second by the letter of the alphabet. For example, file doctors by specialty or put all telephone information (equipment and service providers) in one general "telephone" category.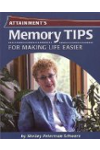 More About this Book
Memory Tips Making Life Easier
Written by memory and aging expert Shelley Peterman Schwarz, Memory Tips for Making Life Easier delivers just what its title promises. Written for health care professionals, family caregivers, and...
Continue Learning about Memory Loss