Post laundry care instructions near your washer and dryer. Tack an index card to a bulletin board or inside cabinet doors indicating how much and what kind of cleaning products to use, water levels and temperature settings. The note can also remind you of other special care instructions such as to keep Velcro fasteners closed so they don't collect lint or snag garments.

Keep a list of stain removal tips, techniques and products in your laundry room to remind you how to treat specific problems.

Tie a knot in clothing to remind you of a stain or repair that needs attention. After taking off a stained garment or one that needs repair, tie a knot in a sleeve or leg to remind you to pretreat or repair it before washing. Of course, if you take the time to pretreat a stain immediately, you won't have to remember.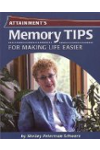 More About this Book
Memory Tips Making Life Easier
Written by memory and aging expert Shelley Peterman Schwarz, Memory Tips for Making Life Easier delivers just what its title promises. Written for health care professionals, family caregivers, and...
Continue Learning about Memory Loss