If remembering to turn the lights off is a problem at your house, install a motion detector light switch that automatically turns the light on when you enter a room and turns it off when you leave. Some models come with adjustable timers with a maximum 20-minute delay. If you use a motion detector in the bedroom, you can safely get into bed before the light turns off. Lights can also be operated normally with a manual override feature.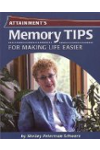 More About this Book
Memory Tips Making Life Easier
Written by memory and aging expert Shelley Peterman Schwarz, Memory Tips for Making Life Easier delivers just what its title promises. Written for health care professionals, family caregivers, and...
Continue Learning about Memory Loss