Many of us who are going through the menopause transition complain of problems with concentration and memory. Researchers have been attempting to quantify and describe these changes. Few scientific studies to date have been able to show a change in mental function during the menopause transition. Subtle changes in memory and word-finding concentration are most likely attributable to other aspects of our lives, such as aging, physical health problems, sleep problems, stress and depression.
Some researchers believe that if there are changes in memory and cognitive ability during the natural menopause transition, these changes may be too subtle to measure in clinical studies. Medical researchers have shown that women who have had their ovaries removed surgically (through complete hysterectomy or oophorectomy) and experience problems in memory generally experience improved memory by taking estrogen. Some researchers theorize that the suddenness of the loss of estrogen with the loss of ovaries may make it easier to identify memory problems and resolve them with treatment than in natural menopause, a process that may take many years. For the woman going through natural menopause, there is no consistent proof yet of associated loss of cognitive function or memory.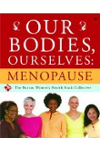 More About this Book
Our Bodies, Ourselves: Menopause
FROM THE EDITORS OF THE CLASSIC "BIBLE OF WOMEN'S HEALTH," A TRUSTWORTHY, UP-TO-DATE GUIDE TO HELP EVERY WOMAN NAVIGATE THE MENOPAUSE TRANSITION For decades, millions of women have relied on Our...
Women's brains do not deteriorate as they go through menopause. Our cognition does not get worse. Our short-term memory isn't quite as good, but actually our long-term problem solving skills are better. We see that menopause transition, and we want to attribute these mental changes to menopause, which is a natural thing to do. But you don't want to fall into an observational, anecdotal trap that simply isn't true.
Continue Learning about Memory Loss