There are many free and paid apps available that can help you keep track of important medical information. A secure app that can save your medication list, allergies, past medical and surgical history and the names of your doctors would definitely be a great help if you go to emergency room or to a new doctor's visit.
Create a personal health history. Remember important medical information by creating a binder where you keep a record of medical problems, medications, immunizations, allergies, dates of past hospitalizations and procedures, family medical history and more. Also keep copies of insurance information and legal documents such as Power of Attorney and Advance Medical Directives.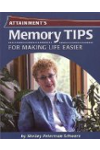 More About this Book
Memory Tips Making Life Easier
Written by memory and aging expert Shelley Peterman Schwarz, Memory Tips for Making Life Easier delivers just what its title promises. Written for health care professionals, family caregivers, and...
Continue Learning about Memory Loss