Keep important medical and contact information on an index card. During medical emergencies it can be difficult to remember your name, not to mention your medications, doctors and emergency contact information. A simple way to keep important medical information handy is to use an index card. On one side of the card put the names and telephone numbers of your doctors, therapists, counselors, hospitals and clinics. You may also want to include the name of your clergyperson, family members or close friends. On the other side of the card, write the names of the medications you are taking, the dosage, time of day you take the drug, what the drug is for and how long you have been taking it. Don't forget to include any allergies you have to medications, preservatives and so forth. Keep the index card updated and near your driver's license in your wallet or purse so it's handy when you need it.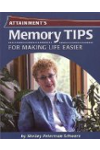 More About this Book
Memory Tips Making Life Easier
Written by memory and aging expert Shelley Peterman Schwarz, Memory Tips for Making Life Easier delivers just what its title promises. Written for health care professionals, family caregivers, and...
Continue Learning about Memory Loss