A few ways you can help someone who has memory loss include:
Encourage correct choices. If a loved one has difficulty knowing where things are or where to go, look for ways to use simple modifications and visual cues to help guide decisions. Add a nightlight in the bathroom to make it easier to find; paint or decorate the door to the bedroom so it's distinctive from other doors; put pictures of eating utensils, dishes, towels and food items on the outside of cabinets and drawers. Little things can go a long way in helping a loved one with memory loss be more independent.
Provide structure for stability in the home. Anxiety can result from new situations, noise, large groups of people, being pressed to remember or being asked to do a task that's too difficult. As anxiety rises, the ability to think clearly declines.
Make the home familiar and safe. When memory is an issue, keeping everything in the same place is an important strategy. To help prevent accidents around the home, install locks on cabinets containing medicines, toxic substances and dangerous utensils or tools; remove electrical appliances from your bathroom; set the water heater no higher than 120º F; and install grab rails.
Avoid the urge to change the way things are done. Establish rituals for everything from getting dressed to going to bed at night.
Use memory aids to help a friend or family member remain independent. Write out a list of the day's activities, telephone numbers to call for help and instructions on how to do simple tasks such as make a cup of tea or use the telephone.
Try a new approach. If a technique you've used before stops working, be flexible, patient and understanding as you try to find a solution. helping with memory loss, assisting people memory loss, family with memory loss, poor memory providing support, poor memory providing help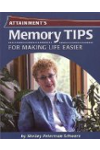 More About this Book
Memory Tips Making Life Easier
Written by memory and aging expert Shelley Peterman Schwarz, Memory Tips for Making Life Easier delivers just what its title promises. Written for health care professionals, family caregivers, and...
Continue Learning about Memory Loss