If a person is easily confused, create a detailed travel itinerary and information list to consult when traveling. Include the date, flight (train, bus) information, transfer or connection information, home address, family and emergency contact information and who will be meeting the person at the end of the ride. Preparing this information will prevent unnecessary anxiety on the part of the traveler and ease the minds of family members on either end.

Inquire about a special pass to accompany a passenger to the gate. For someone who may become easily confused or forgetful, making it difficult to locate the right gate without assistance, explain to the ticket agent at the time of check-in that you would like to accompany the passenger to the proper gate and why. It's common practice for ticket agents to issue a special pass that will allow someone to guide a ticketed passenger through security and get them safely on the plane. You'll need a picture ID and must go through security just like passengers with tickets.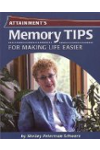 More About this Book
Memory Tips Making Life Easier
Written by memory and aging expert Shelley Peterman Schwarz, Memory Tips for Making Life Easier delivers just what its title promises. Written for health care professionals, family caregivers, and...
Continue Learning about Memory Loss