Use a bracelet to remind yourself to turn off the hose. When watering the yard or garden, take an old bracelet and put it around your wrist to remind yourself that the water is on. When you're finished watering, take the bracelet off and put it around the faucet so it's ready to use the next time you turn on the water.

Paint garden tools with fluorescent paint or wrap the handles with bright reflective tape. Not only will your tools be easier to find if you leave them out in the yard, but they will more likely come back to you when borrowed.

Replace traditional pots with self-watering pots or planters, which come in a variety of styles and sizes. At the bottom of the pot is a slotted plastic inset with an easy-fill water reservoir, which is accessible from the outside of the pot. Plant as usual and water thoroughly from the top of the pot. After the soil is saturated, fill the water reservoir below. The soil acts as a wick, taking only the water it needs.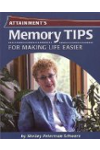 More About this Book
Memory Tips Making Life Easier
Written by memory and aging expert Shelley Peterman Schwarz, Memory Tips for Making Life Easier delivers just what its title promises. Written for health care professionals, family caregivers, and...
Continue Learning about Memory Loss