The following are suggestions for finding information and help for someone with memory problems:
Contact national health organizations for helpful information. If a family member's memory is affected by an illness such as multiple sclerosis (MS), Parkinson's or Alzheimer's, you may find helpful information by contacting the national organization for the specific illness. Consult your librarian for a list of organizations and their contact information.
A national network of independent living centers can put you in touch with vital support and services. Every community in the United States is part of a national network of more than 500 independent living centers (ILC). These community-based, nonprofit centers serve people of all ages and disabilities and their families. They can help you find out about disability services in your community, connect you with others to advocate for changes in the law or rules, help you hire and manage personal care attendants and put you in contact with people who have faced challenges similar to your own.
Seek out assistance from social workers. If you or a loved one has been diagnosed with a chronic medical condition or disability, consult a social worker, who can help you connect with supportive services in your community. Social workers often work in rehab centers and hospitals, where they do discharge planning. You will also find them in community service agencies such as Catholic, Lutheran or Jewish social services.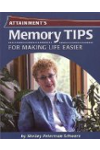 More About this Book
Memory Tips Making Life Easier
Written by memory and aging expert Shelley Peterman Schwarz, Memory Tips for Making Life Easier delivers just what its title promises. Written for health care professionals, family caregivers, and...
Continue Learning about Memory Loss