If your memory makes it difficult to continue favorite activities, scale back to a level you can handle. For example, if you used to do the New York Times crossword puzzle, get easier crossword puzzles. Read short stories instead of a whole book. Adjust the rules to favorite games (e.g., when playing Scrabble, allow the use of proper names). Don't give up a favorite pastime; just create a simpler version.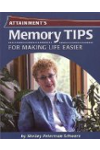 More About this Book
Memory Tips Making Life Easier
Written by memory and aging expert Shelley Peterman Schwarz, Memory Tips for Making Life Easier delivers just what its title promises. Written for health care professionals, family caregivers, and...
Continue Learning about Memory Loss