With a little extra concentration, benign forgetfulness can usually be overcome. You may need to write down new information; you may need to make associations between familiar names or words with an unfamiliar word or name you are trying to learn in order to better remember it. You may have to have someone show you more than once how your new iPhone or DVD player works. But you can still learn. You can still remember; you may just have to work at it a little harder. You may need to write yourself more notes, jot down the aisle number where you parked your car or always place your house keys, your purse or your wallet in exactly the same spot every time you come into the house. The good news about benign forgetfulness is that it doesn't get any worse, and it does not lead to Alzheimer's disease. The bad news is that it doesn't get any better, either. You need to understand it, accept it and adjust to it in ways like those mentioned above.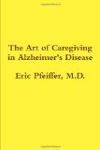 More About this Book
The Art of Caregiving in Alzheimer's Disease
This is an A to Z Guide to the caregiving experience in Alzheimer's disease. It is easy to read, easy to follow. It is authorative, based on thirty years of experieReconce in caring for Alzheimer's...
Continue Learning about Memory Loss