Consider an automatic withdrawal plan to pay bills if you are likely to forget to pay them on time. Each month your bill is paid automatically through your checking account, so you never miss a payment or pay a late fee. If you prefer to stay in charge of your bill paying, sign up for an Internet bill paying account at your bank and set your computer to remind you to pay bills on certain days. Either way, there's the added benefit of no cost for checks, envelopes or stamps, not to mention the time you save.

Use contact numbers on bills to confirm payment. Can't remember if you've paid a bill? Often the telephone number of the payment department is listed on the front or back of the bill. You might also sign up for an Internet account and check online anytime, day or night.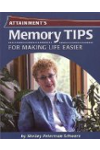 More About this Book
Memory Tips Making Life Easier
Written by memory and aging expert Shelley Peterman Schwarz, Memory Tips for Making Life Easier delivers just what its title promises. Written for health care professionals, family caregivers, and...
Continue Learning about Memory Loss