Keep your conversations simple. When possible, eliminate distractions before trying to communicate. Make eye contact. Position yourself to give or get undivided attention.

Give yourself extra time even for the simplest of interactions. If you are easily flustered, stay calm and be patient. Take your time and say what you want to say. In return, be patient and wait for answers.

Use short sentences and simple words. If you have trouble finding the right word, speak in simple everyday language. Your listener will likely not notice.

Close your eyes to concentrate. This reduces your tension while the other person waits for your next word and eliminates other environmental distractions, allowing you to concentrate better. If you're talking while walking, stop for a moment before closing your eyes. Remember to open your eyes again before you resume walking!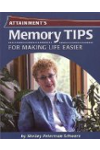 More About this Book
Memory Tips Making Life Easier
Written by memory and aging expert Shelley Peterman Schwarz, Memory Tips for Making Life Easier delivers just what its title promises. Written for health care professionals, family caregivers, and...
Continue Learning about Memory Loss