Overextending yourself, whether at work or play, can have detrimental effects on your body. Increased stress from too much to do and aches and pains from overdoing make it harder to concentrate and remember. If you find yourself forgetting things, take a look at your lifestyle. Can you simplify it by eliminating nonessential activities?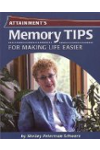 More About this Book
Memory Tips Making Life Easier
Written by memory and aging expert Shelley Peterman Schwarz, Memory Tips for Making Life Easier delivers just what its title promises. Written for health care professionals, family caregivers, and...
Continue Learning about Memory Loss