Avoid omissions in your checkbook register by using duplicate checks. If you forget to write in the amount, the duplicate is in your checkbook for handy reference. Sign up for overdraft protection for those times when you record a deposit twice or goof up the math.

Mark your last three checks to remember to refill your checkbook. On the last check put a small "0" in the corner, on the one before that a "1" and on the one before that a "2." You'll know when you get to the last three checks.

Write your check number on your receipt. If you carry a single check rather than your checkbook, make sure you remember to record it in the check register by writing the check number on the purchase receipt. If you get in the habit of doing this every time you write a check, with or without your checkbook, you'll always have a record of your transaction.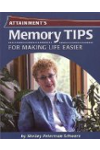 More About this Book
Memory Tips Making Life Easier
Written by memory and aging expert Shelley Peterman Schwarz, Memory Tips for Making Life Easier delivers just what its title promises. Written for health care professionals, family caregivers, and...
Continue Learning about Memory Loss