Here are some suggestions on improving your ability to use home appliances safely if you have memory problems:
Purchase products with an automatic shutoff feature. Many of the newer coffeemakers, irons, clock radios, copiers, printers, curling irons and computers automatically shut off after a certain amount of time has lapsed.
Purchase a stove with removable buttons or dials as a safety measure for people who may forget the stove is on. It is also helpful if the controls are along the front of the appliance, so the person cooking doesn't have to reach across the burners to turn the stove on and off.
Identify electric cords with color-coded cable ties. If you have a tangle of electric cords in the kitchen, computer room or entertainment center, straighten up the mess by securing the cords with cable ties, readily available at hardware, electronics or office supply stores. Use a different color for each appliance to make it easier to find a specific cord.
Wrap individual appliance cords in cardboard tubes. Know at a glance which cord goes with which appliance by winding up the cord and sliding it into an empty toilet paper or paper towel tube. To make it easy to match the right cord with the right appliance, write the name of the appliance on the tube and keep it in a kitchen drawer or inside the appliance.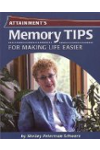 More About this Book
Memory Tips Making Life Easier
Written by memory and aging expert Shelley Peterman Schwarz, Memory Tips for Making Life Easier delivers just what its title promises. Written for health care professionals, family caregivers, and...
Continue Learning about Memory Loss