Reversible causes of memory loss can be treated. Depression, for example, can cause the slowing of processing speeds and some problems (or perceived problems) with memory. Therefore, if you treat depression, memory loss may lessen. Memory problems can also be caused or exacerbated at times by thyroid or deficiencies in certain vitamin levels, which can be determined by lab-based tests and treated. Other causes, such as structural lesions, can be found by imaging. There may be infectious or toxic processes occurring that may be treated (if not fully corrected) and thus lessen memory loss or memory problems. Ceasing medications that cause memory problems may also lead to improvements.
The best way to treat perceived changes in memory and cognitive function is to tackle the underlying causes. The most common memory loss causes in midlife are:
Depression
Stress
Severe hot flashes and night sweats (that disrupt sleep)
A change in life circumstances
The least common causes would be early symptoms of dementia.
If you have persistent symptoms of memory problems that go beyond the normal amount, check with your health care provider about getting a formal neuropsychological assessment and medical workup. It may also be helpful to do more brain and physical exercises and to adopt healthy lifestyle habits, such as eating a good diet and living smoke free.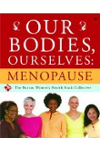 More About this Book
Our Bodies, Ourselves: Menopause
FROM THE EDITORS OF THE CLASSIC "BIBLE OF WOMEN'S HEALTH," A TRUSTWORTHY, UP-TO-DATE GUIDE TO HELP EVERY WOMAN NAVIGATE THE MENOPAUSE TRANSITION For decades, millions of women have relied on Our...
Get a medical and neuropsychological evaluation to pinpoint the cause since infections and depression can cause memory loss. Some people have a diagnosis of mild cognitive impairment which is more than normal aging memory loss but not dementia.
In any case, use aids to help you remember. Posted notes, writing down what's important, repeating people's names by addressing them by name help. Try to focus on one task at a time. Get enough sleep since sleep deprivation can affect your memory. Any healthy lifestyle change will do good - especially physical exercise. Learn how to relax.
Continue Learning about Memory Loss